Yes, we are! At this time we can currently be found on Twitter.
Can I view this on my mobile device and/or do you have an app?
What do you do with my information?
Absolutely nothing. We value your privacy just as much as we value our own. We will never sell or share the limited information we can view about you. Our Privacy Policy can be found here.
Do you have a bunch of legal mumbo jumbo?
Yes, for your safety and ours we do have some of that legal mumbo jumbo. It can be found here.
What language should I use on the forum?
We're excited to see people interested in tenkara from different countries joining our forum. The forum is set up to use your browser to determine what your primary language of use is. It will (hopefully) translate much of the forum for you.
Everyone is welcome to make posts in their native or preferred language; however, I ask that you use something like Google Translate to translate your post into English and post it as well
Regardless of where you are from, if English is not your first or preferred language please use the following instructions to change the language you view the forum in.
1. Click in your avatar or the letter for your name.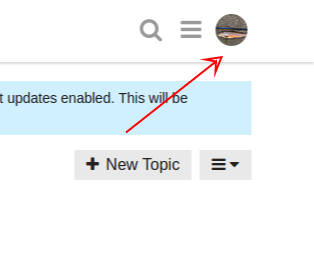 2. Click on the gear at the top of the popup to go to your settings.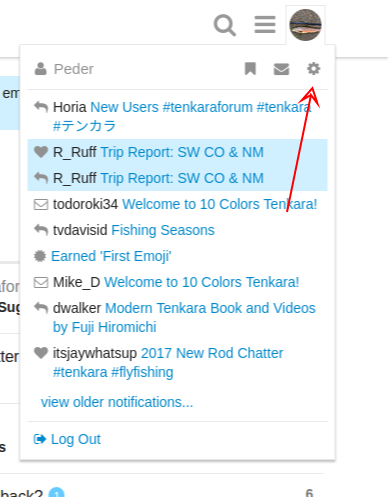 3. Once in your settings, click on your "Preferences" tab.


4. Then scroll down approximately half-way until you see "Interface language" and select your preferred language (or one you are comfortable using). If you use "default", it will be English.


How do I invite a friend?
Do you know someone that would be interested in joining the conversation here about tenkara? Well, there's an easy way to tell them about it. Send them an invitation! Here are some easy instructions.
1. Click on your avatar (or the letter for your name)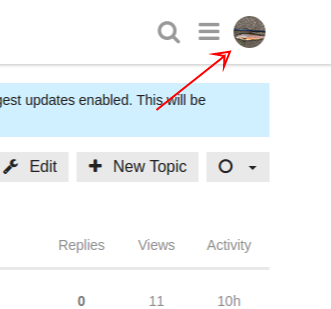 2. Click on the gear to go to your settings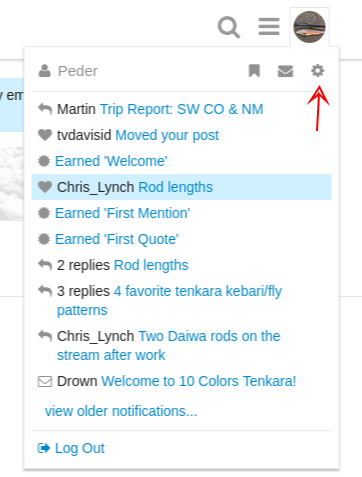 3. Click on the tab in the middle that says…… you got it, Invites


4. Then click on "Send an Invite"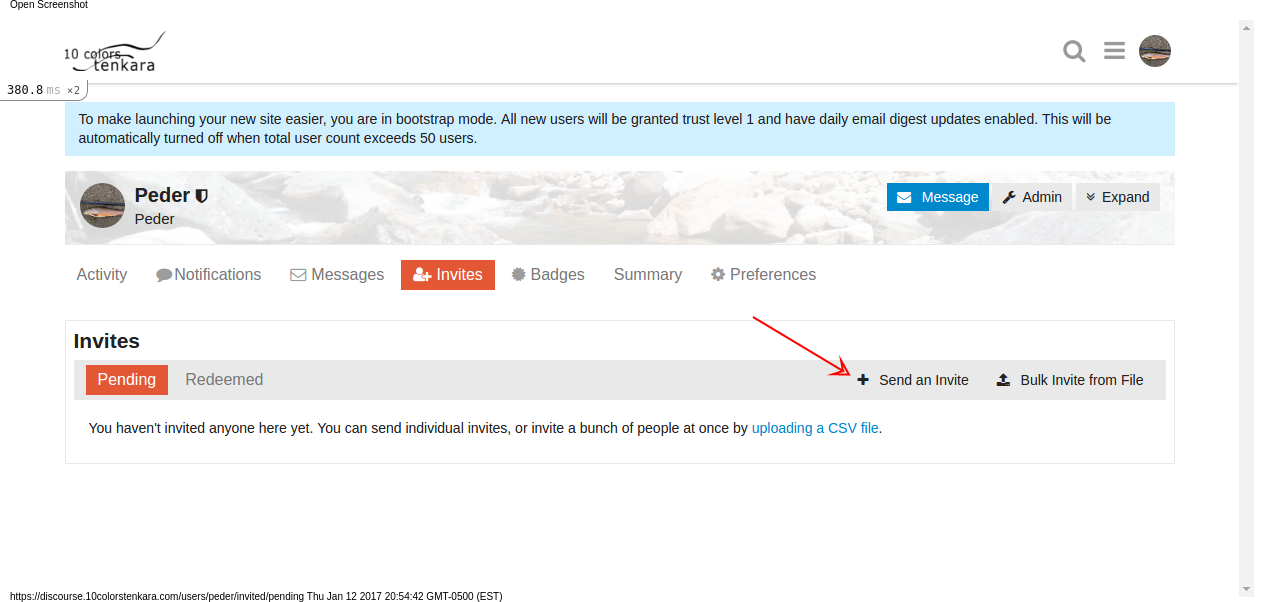 Right now everyone has 10 invitations per day, if you need more, great! Just let me know and I can increase them.
How do I send a private message?
Hi all –
While this is by no means a requirement, I would highly encourage you to use Private Messages when doing transactions via the Marketplace Category. That way the rest of us do not see your correspondence. Also, please note that if you reply to an email from someone else's message, unless they've sent you their personal email address, that message comes directly to the admin email (i.e. me!) instead of that person.
To use private messages:
1. Click on your avatar (or the letter representing your screen name) to see the drop down menu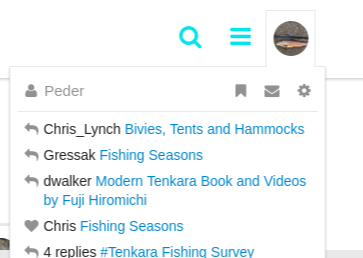 2. Click on the little envelope in the upper right and middle

3. Click on New Message on top left


4. Type in the user name of the person you wish to communicate with, write your message, and send it off