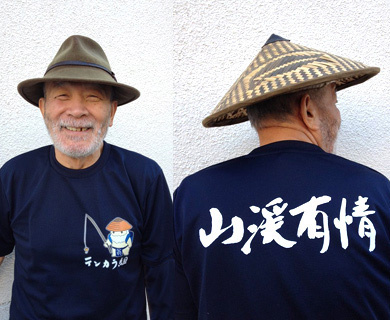 This is one of my favorite tenkara shirts. Do you have a special shirt for good luck when fishing?
That is a pretty awesome shirt, but I don't know if i'm enough of a Sebata-san fan to rock it
I have an olive Tenkarabum shirt that has brought me luck on more than one occaision.
I saw this shirt yesterday and I had to buy it. Yes, it was way too expensive and if I told my wife the cost,
she would smother me with a pillow during the night. I think it used to be available at TUSA. However,
by the time I became interested in Tenkara the shirt was no longer available. The Tenkara Bum
shirt is really cool as well.
I have a couple of the Sebatake-kun tee shirts, 「せば茸くんTシャツ」in blue.
It would be fun to get them in gray.
http://www.tanidoraku.com/sebatake/sebatake04.htm
And I have the Oni shirts in three different colors.
It is fun to wear either one. And they occassionally lead to discussions about tenkara.
However, I think good luck when fishing comes not from the shirt, but from, well, just luck of the day, and the skill of the person inside the shirt.
David,
Your words are very true. You cannot buy luck or skill. You can only work hard to develop skill.
However, I am still at the dumb luck level.
I got an Oni shirt from him this summer in Japan. I had at least a half dozen conversations with random Japanese about Tenkara and fishing the one day I wore it wandering around Kyoto. My favourite fishing t-shirts are the Patagonia World Trout series which has artwork of native trout by various artists printed on them, with money from the sale going to conservation. Always beautiful.