Hi all,
I'm sure you've noticed a few new changes in the past couple of days. This includes several new settings that have migrated for all individual users.
They can be accessed at this link:
https://10colorstenkara.com/my/preferences/
or by clicking your profile picture and then the profile icon and preferences: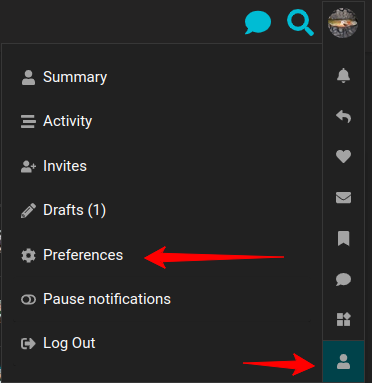 From there, select Interface:

You can then select whether you want a Dark or Light mode under Color Scheme. I would recommend leaving the Dark Mode setting set at "Same as regular" and choosing either "10CT Light" or "10CT Dark". Remember to click "Save Changes" at the bottom.
If you click on "Sidebar" there are a few new settings there as well.

You can select which Categories you want to show up in the Sidebar as well as what Tags (though very few people use tags here).
Lastly, you can change Navigation.
If you choose "use the default link and show a badge" it will look like this:

If you choose "link to unread/new and show a count" it will look like this:

You can always select "Latest" in the top header to see everything.
There is also now a Chat feature (see the Chat bubble in the header bar). If you don't want to create a new Topic, just start a chat. You can also create private chats with individuals or groups of people.
Last but not least, Topics will now close 30 days after the final post to keep things fresh and users interested.