秋山郷伝承毛針 , Akiyama Gō denshō kebari, Akiyama Township lore / traditional kebari.
The kebari tier is Mr. Kenzo Hayashi [ 林謙三さん]
「 バイスを使わずに全て手巻きです。 すごい技術だと思います。」
"All hand winding without using a vice, I think it's an amazing technique."
Interview (of course in Japanese language)
599 林 謙三(奥鬼怒岩魚保存会 副会長)(1)
599 Kenzo Hayashi (Deputy Chairman, Okuninuma Iwaki Conservation Society) (1)
https://www.fishing-v.jp/movie/?mv=wolf_1309_6906720_01
One item from his profile on the above website is that he began fishing headwaters areas in 1968. Geez, I had just started my senior year in high school.
In general, I think kebari-hook is # 8 fly-hook
It's # 12 with a small hook
It was more certain to have it by hand than to use an easy vise
It is easier to change the direction of the hook so it will be finished faster than the vice
The winding order of kebari is opposite to fly(It is an old method)
It is interesting to me read and think about this. I use #8 hooks very seldomly. My hook use by size looks something like the following (based on what my fly boxes currently look like):
Size 12 (80%)
Size 10 (10%)
Size 16 (5%)
Size 8 (3%)
Size 18 (2%)
I guess it all comes down to experience and perspective. While I find tying by hand interesting, it is something that I personally find very difficult and I'm not good at it. Although, I appreciate what you say; it it's much easier and faster to change the direction of the hook in your hand.
Can you please explain what you mean that the winding order of kebari is opposite to flies? Do you mean front to back or back to front? Or do you mean the order in which you apply materials? This is rather interesting.
私にはこれを読んで考えても面白いです。私は非常にまれに#8フックを使用します。サイズによる私のフックの使用は、以下のようになります(私のフライボックスは現在のように見えます):
Size 12 (80%)
Size 10 (10%)
Size 16 (5%)
Size 8 (3%)
Size 18 (2%)
私はそれがすべて経験と視点にあると思う。私は手で結びつけるのが面白いと感じていますが、それは私が個人的に非常に難しいと感じるものです。しかし、私は感謝しますあなたが言うこと;それはあなたの手のフックの方向を変更する方がはるかに簡単で迅速です。
あなたは、ケバリの巻線順序がハエとは反対であるという意味を説明できますか?前から後ろへ、または前から後ろへのことを意味しますか?あるいは、あなたが資料を適用する順序を意味しますか? これはかなり面白いです。
謝罪します。私の日本語があなたにとって意味をなさないことを願っています。
I can fully understand.
My English is poor …

Please look at the old kebari
It is used in Myoko Kōgen Town since the 1970s
鈎素 (tippet) are attached to make kebari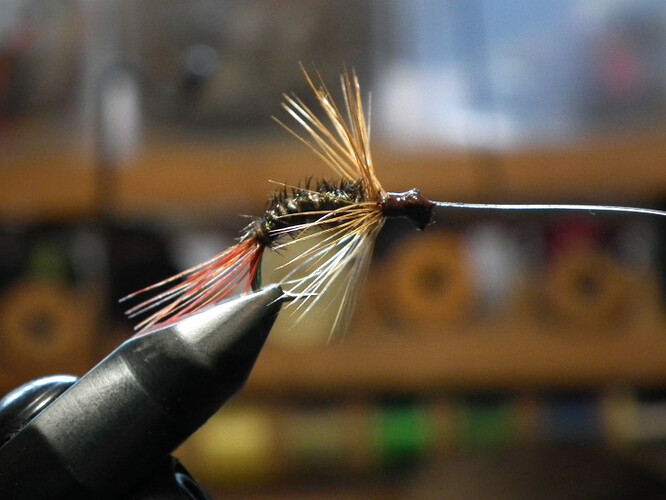 Because there is a tippet
In the past I kept the head part
The same is true for ayu-kebari
If head(頭) = saki(先)
The name itself is opposite to fly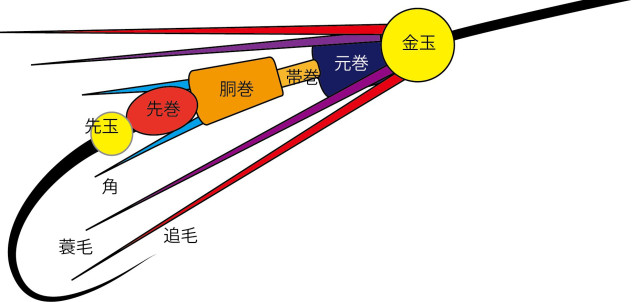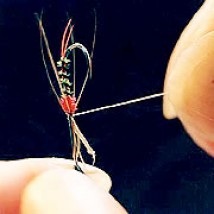 I made the old kebari the same way
I see! Thank you. This makes more sense to me now. I really like the kebari in the first photo; I think it would be very effective for the native brook trout that I fish for. What is the hackle and what is the tail?
ご理解いただきありがとうございます。
そうですか!ありがとうございました。これは私にとって今より意味があります。私は最初の写真のケバリが本当に好きです。私はそれが私が魚を食べるネイティブのブルックトラウトにとって非常に効果的だと思います。ハックルとは何ですか?尾は何ですか?
岩魚(iwana)・・・Char
I think that it is good for Brook trout because it is for Char
Both are game fowl( hackle and tail)
Color is Coachman Brown and Honey Dan
Please look at the size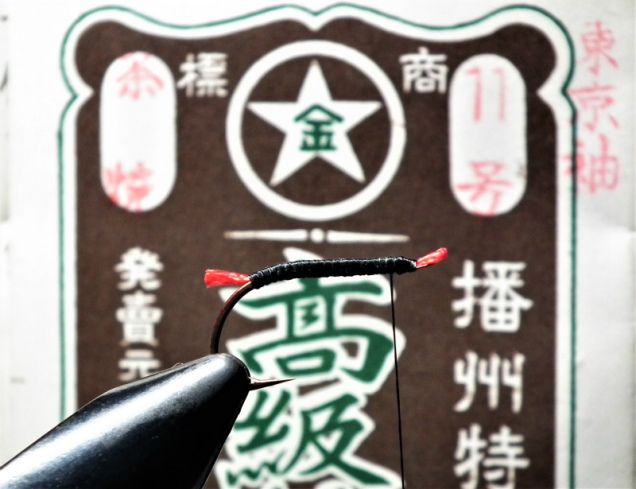 I compared it with TMC 102 Y # 15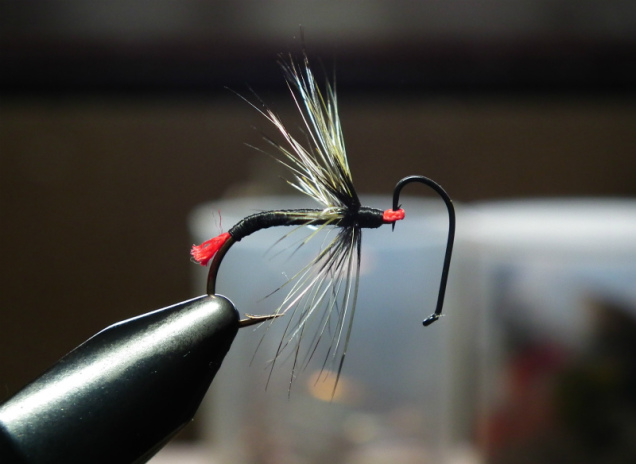 Thank you Todoroki for all the information.
I really like akiyamago kebari, I'm trying to figure out what kind of thread Kenzo Hayashi uses in the video. My guess is a heavily waxed one so that it stays in place easier.
I tie a lot without a vice, but not in the way Hayashi does in this video. Would like to learn his method.
His thread is silk sewing thread
I think that the hidden essence is more important than mimicking the way to make it

You're right, I think so too. But learning new ways can fun. And the way he does it seems good when tying at fairs and gatherings.
All the knots he makes takes away the need of keeping constant pressure on the thread.
Keep the old kebari tied for each step
It will be both durable and non-slip
The old kebari is not a current saddle hackle
It has been wound more thinly
I agree, I think he is using normal unwaxed thread. Probably silk thread. If you watch carefully, especially at several time marks (1:20, 3:57, 5:12, & 7:51) you can see he holds one end of the thread in his mouth, while applying one turn of the other end round it. Then pulls in a tight overhand knot, followed by a second overhand knot after he drops the hook on the table. Thereby making a square or reef knot.
Additionally on the Yoshikazu Fujioka website, under the paragraph, he only comments that silk thread is used. However, that comment is not immediately before mentioning the bottom row, 2 left end kebari were tied by Kenzo Hayashi. "The left 2 of lower row are flies of Mr. Kenzo Hayashi who is continuing adhering to fishing by Akiyamago fly. "
Best Streams Hi-ho Tenkara 4 English version
Best Streams Hi-ho Tenkara 4 Japanese version
He is also seen tying kebari in the same way on this website,
http://www7a.biglobe.ne.jp/~yajin/page_ban_1.html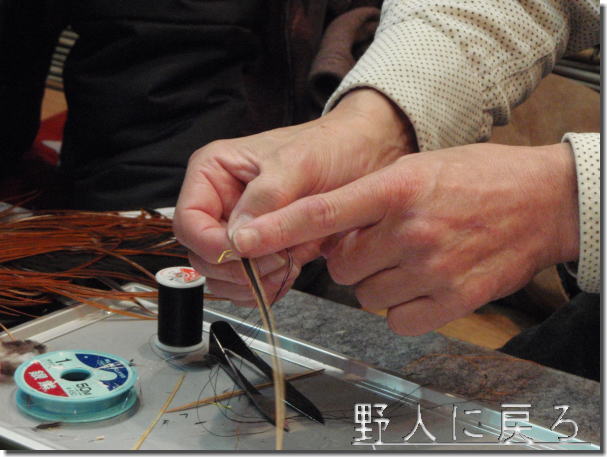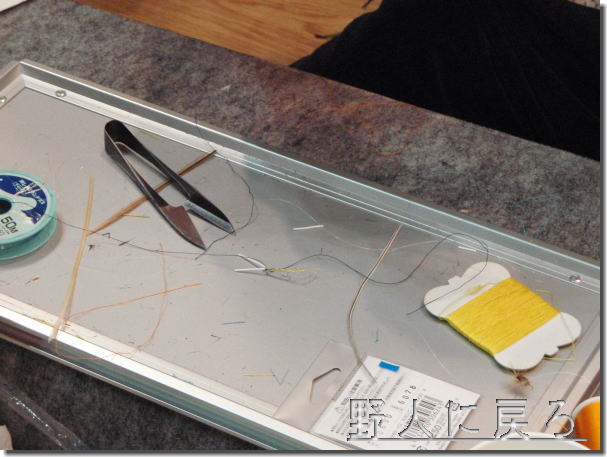 材料はいたってシンプル。針・綿の縫い糸・ハサミ・テグス・数種類の鳥の羽根
Materials are simple. Needle · cotton sewing thread · scissors · tegus · several kinds of bird feathers.
An internet search with - 林 謙三の秋山郷毛鉤・全て手巻き [ Kenzo Hayashi Akiyama Township fly - all hand-rolled] or similar phrase will likely find other examples.
Textbook does not necessarily always correct
One thing that can be seen from one view may be one
Individuals and individuals are connected on the Internet now
Enjoy or choices has increased in any way