I'm wondering if anyone else are having odd things happening with forum functions?
I've had page loading errors. Usually works fine if I click Try Again.
But several times after posting a reply. A grey field remains at the bottom of the page. It is like the rely window. Except it is all gray. And it won't go away until I log out and back in.
And several times I have looked at a topic. Then when I open another topic, the previous topic is what is displayed, and under the name of the newly selected topic. It looks like this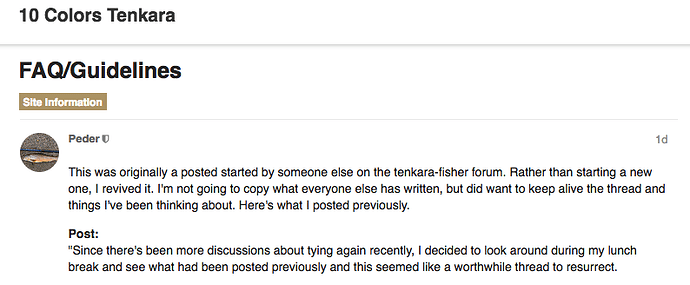 Notice there are two different topics. But the same content, from Peder's Kebari post, is what is displayed.
This has happened with my iMac and Macbook.
Some other oddities, I think, were only caused by some kind of delay in cache updates.
For example I have noticed after I have logged out my avatar continues to be displayed in the On-line list. But it usually clears after a few minutes. Probably a cache update delay.
I'm not complaining. New start ups always have bugs that can usually be fixed with some configuration changes.
Or is this something only I am experiencing today? Did not happen yesterday.
In which case it's something on my end only.
D