After seeing the Tenkara Angler article on an interline Tenkara rod, I decided to make one too.
Here's my version: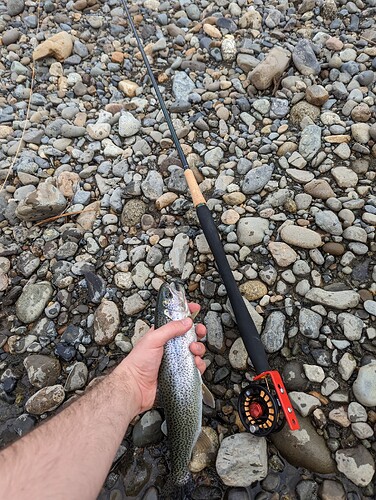 One could describe this as the trivial solution to preventing large fish from breaking off. However, I haven't been able to test it on any big fish just yet. The fish in the photos did manage to pull a few clicks of drag, but clearly isn't the kind of trout that's breaking 3x tippet.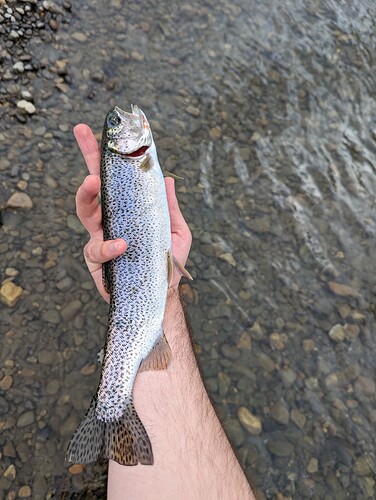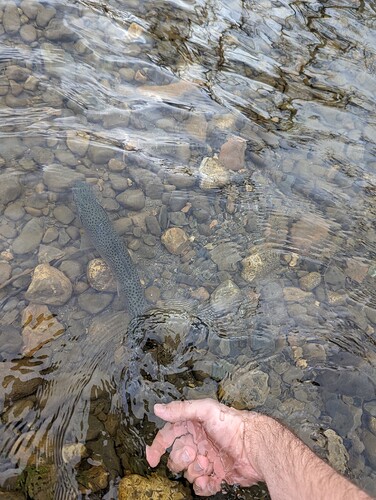 Surprisingly, the rod's casting characteristics weren't ruined. I cut (way) too much of the tip section off, which makes the rod cast a bit like a broomstick. I also noticed that the reel's weight moved the center of gravity closer to the handel, which is a bit of an improvement. The overall Moment of Inertia seems higher though, pushing the rod into two-handed territory.
So far, this design feels like the worst of both Western Fly Fishing and Tenkara. And any improvements I make would probably push this rod back into either discipline without offering anything new. However, I'm planning some design improvements anyway. I've ordered another tip section with the intention of cutting it much closer to the Lilian to hopefully rectify the broomstick casting. The steel bracket holding the reel is quite heavy, so I'm planning to replace it with a lighter 3D printed part. I'm also wondering if routing the line through the rod is the only option; Perhaps I could run the line along the outside of the rod and then up and out through a single eyelet attached to the Lilian.