I wish I could read Japanese better.
That book seems very interesting and that there is much to learn.
Authors Etsuji Katayama, Hisao Ishigaki, Masami Sakakibara, Wataru Kurakami, and more!
Three of those names are familiar.
But I was not sure if I know who Wataru Kurakami-san is. [倉上亘さん]
After looking around a bit I realize I know his face, I just did not know his name.
I see he contributed with the other authors to an article about Tenkara talk in the 2016 Spring issue of Keiryū magazine.
I think I have that issue, somewhere, I can not find it at the moment.
http://e-tsuribito.blogo.jp/archives/2061660.html
If you spend any time looking at Japanese Tenkara blogs you too may recognize him.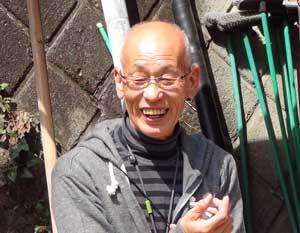 These are some blogs where I have seen him before:
tenkarakebari.jugem.jp/?eid=1259
http://trout-country.jugem.jp/?day=20091031
His kebari are called Progressive in this blog post.
http://kutibashi.sakura.ne.jp/turituri20110730.htm
Anyway, might be an interesting book. And much could be learned from the list of 20 topics. If we could read Japanese.
But maybe something could still be learned if the illustrations are good.

This would be worth setting up a GoFund Me or Kickstarter to create a translation fund.
Now there's an excellent idea.
Then I should negotiate with the publisher(Yama to Keikoku Co.,Ltd) ?
It's okay, haha.
Can you check this e-book on Amazon Kindle?
In Japan, this book is released on Amazon Kindle.
It is available for kindle in the US too. It can be found here.
So nice! (written in Japanese though)
I see most of the books are written in Japanese. Does everybody just look at pictures and diagrams and do the best they can with the methods being taught or do you translate them or speak Japanese. I just don't want to spend money on a book that I cant use. I know pictures are cool but I am always trying to learn from different sources and was wandering if these books from Japan do that. Thanks Alton
I can only describe my own experience. Yes it's mostly look at the diagrams. Some books are better than others. This one is pretty good, lots of good diagrams. Books with lots of text and few diagrams are probably best avoided unless you can read Japanese well.
Not being able to read the language does limit the information you can gain from the books, but good diagrams help. It helps a lot if you can read some Japanese. Then at least you can figure out the captions on diagrams or section titles, or get the gist of the topic in paragraphs of text, picking up a few of the words. Enough to follow whether they are writing about fish or kebari or water surface, or below water surface, or rods, etc,
For example section 4, page 81, is labeled テクニク, techniques. A word I know.
It takes me a bit more effort to figure out - 第4章 - Chapter 4. But do I really need to be able to read that? I can make a good guess at the meaning. I lose nothing by not figuring it out.
Chapter 3 毛鉤は何にでもけられる
starts on page 14. Pages 14 & 15 have some interesting pictures and diagrams.
Do I really need to be able to translate the chapter title to know what it is about? No.
I can only see that 毛鉤は何 is what is a kebari, I cannot translate the last part, but don't really need to.
But pages 16 & 17 clearly show favorite kebari of the 4 tenkara experts featured in the book.
The two pages are labeled - 四天王の毛鉤. At a glance I know the first kanji is 4, the last one is kebari. It doesn't matter much if I don't take the time to figure out 四天王 is something like 4 heavenly king's. + kebari.
Pictures of the iconic kebari used by each is shown, with a detailed description below the pictures.
Even without knowing any Japanese you can see that Ishigaki's kebari uses
an S10-B # 10~14 hook, it mentions zenmai (ゼンマイ) and something used is brown, 茶 the kanji for tea, often used to describe brown-color, 茶色. If you know hiragana & katakana you can quickly figure out his kebari is called the Bar Code Stealth Kebari, バーコードステルス毛鉤. But not knowing how to translate that you can still get an idea of how he ties this kebari.
I can see that Sakami Wataru's (さかみ わたる)kebari [
is a bead-head, SBL-31 hook, size 6 ~ 8 号 and that he uses 6/0 thread, red, 赤.
Or that Masami Sakakibara's, aka Tenkara no Oni's kebari uses
S10-B size 8 ~ 14 hook. 6/0 thread. And black and brown, 黒、茶, colors are mentioned. What may be a surprise to many is how the kebari is labeled, 鬼毛鉤(順毛鉤)[oni kebari (jun kebari)] . Jun kebari, forward kebari - meaning it is not a reverse hackle or sakasa kebari, 逆さ毛鉤.


A quick look tells me similar information about Katayama Etsuji's kebari.
But I can also with a little effort figure out a lot more details if I want. Most of the text is in hiragana & katakana, with only a few kanji I might need to figure out to translate them, but the rest can just be typed in. If you are not familiar with the words.
「LL マスター」片山 LL, level line, master, Katayama
ファジー毛鉤(ダイワ版) Fuzzy kebari (Daiwa version)
テンカラ毛鉤スタンダード春 tenkara kebari standard - spring (haru)
スレッド:ユニ6/0(クリーム)。Thread: Uni 6/0 (cream).
胴:ペーコックハール&毛糸 (クリーム)。Body: Pekoc Haar (peacock herl) & Yarn (Cream).
羽根 :サドルハックル (グリズリー)Feather: Saddle Hackle (Grizzly)
A kebari pattern that became one of my favorites last summer.
So bottom line is you can learn stuff from these Japanese language books, even if you don't know much Japanese. But a bit more if you spend a little time learning hiragana and katakana and a few common kanji often used in fishing. I am a long way from being able to read paragraphs of Japanese text. So it's mostly titles, diagram labels, and short descriptions. Most of the rest eludes me thus far.
Perhaps the biggest downside is paper is heavy, expensive to mail from Japan. Postage is high. Not a problem with this book as it is also available in a kindle version, which is what I have, but the printed books or magazine, will often have postage that is higher than the cost of the book. Especially low cost books.
That is correct. Almost all of the books are written in Japanese. Besides being well written, that is why the books written by Daniel Galhardo of Tenkara USA and @Paul_Gaskell and John Pearson of Discover Tenkara are so valued by so many people outside of Japan.
I would say my experience is very similar to @dwalker, although I have yet to purchase any hard copy books. Personally, I highly prefer physical books. Call me old fashioned, but I prefer flipping through real pages.
That being said, it is much easier to work on translating small pieces from digital copies. I first started learning Japanese when I was at university. Then I got married and life does what life does and it wasn't a high priority for many years. Again, life changes happened and about 12 or so years ago, I really got addicted to cooking Japanese food and started working on learning the language some more. In 2013 I first learned about tenkara and I wanted to learn even more.
I certainly do not know very much Japanese, but it is something I enjoy working on and playing around with at night or during the winter when fishing season is closed.
Like David, it's a lot of looking at pictures and diagrams for me, but I try to at least figure out what the captions are saying.
I hope this helps.
I forgot to mention that one of Dr. Ishigaki's more popular books is being translated from Japanese into English. I believe Daniel at TUSA is involved with making the translation into English happen. It was announced several months ago, but I have no idea when it is expected to be released in English. Or if it will just simply be a translation as originally written or if some updates will also be added to the book. It is a little dated as it was first published in 2011. But apparently still selling and being printed.
Ultra-clear level line Tenkara | books, Hisao Ishigaki (Author)
ISBN-10: 4885361486
ISBN-13: 978-4885361487
Publisher: Tsuribitosha
Paperback - 2011/2/1
[超明快 レベルラインテンカラ |本 ・石垣 尚男(著)
ISBN-10: 4885361486
ISBN-13: 978-4885361487
出版社: つり人社
単行本 – 2011/2/1]
125 pages.
Google books preview of Ultra-clarity LL Tenkara book
I think it would be the first original Japanese language tenkra book to be translated into English. Something to look forward to seeing, if not sometime this year then maybe the next year.
Thanks I will be looking for it
The book is offered at Oni's webstore.