Hi all,
I have done some needed updates to the background of the forum, most of which you will not notice. One thing that is different, and possibly beneficial if you access the site via a tablet, phone, or other mobile device, is the ability to receive push notifications from the forum. At this time, they only work if you are using the official Discourse App or are accessing the forum via Firefox or Google Chrome web browsers. If you use Firefox or Chrome on your computer, it will work as well.
Safari, Opera, and all Microsoft browsers (IE & Edge) will not work.
Please note: You must do this on each browser and on each device, otherwise it will only work on the specific device and browser upon which it was enabled.
If you wish to implement this feature, here is how to do so (this works for both mobile and computer, but I'm showing images from mobile only.)
Step 1:
Tap or click on your Avatar in the upper right corner. Then tap or click on the small gear icon in the upper right corner of the pop-up.
Step 2:
Tap the drop down menu on the right and select "Notifications." (On a computer, simply scroll down and click on "Notifications.")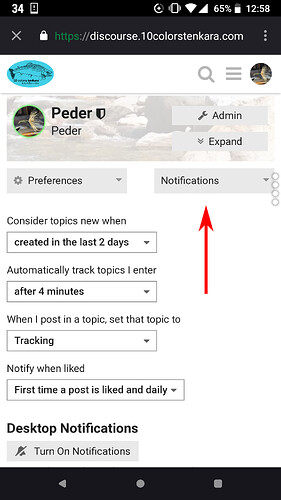 Step 3:
Scroll to the bottom and tap "Enable Push Notifications."
Last, but not least, do not forget to tap "Save Changes."