Any time I'm about to take a trip somewhere, I investigate the opportunities for outdoor recreation. When a family trip to the Atlanta area was planned, I immediately identified the chance to not only hike the southernmost miles of the Appalachian Trail but also try and catch some wild/native trout. I camped in a beautiful spot where two very small and one small/medium stream converged to make a larger stream. My goals (in order of priority) were:
Catch a brook trout (I'm trying to catch one in every state in the fish's native range)
Hike up to Springer Mtn, the southern terminus of the AT
Catch the "Appalachian slam**"…wild brookie, rainbow and brown in the same day/trip
** - As someone whose formative years were spent playing baseball, I bristle when the term "slam" is used to denote a group numbering anything other than 4. A grand slam is 4…period. Three species of fish should be called something like a Turkey or three-bagger…not a slam.
My camp near this stream, the largest of the three coming together at the confluence. I had no fishing luck in this stream at all. I decided to walk South on the AT which ran along one of the smaller streams. This stream was, in many places, very difficult to access and even harder to find room to cast. However, I managed to find this nice little run,…
…which produced fish on back-to-back casts…
2/3 of the way to the three-bagger already and it's barely noon on day 1. I wouldn't catch anymore browns on the trip, but I caught several more glittering, spunky rainbows. None were bigger than the first, pictured above, but it was really a fine day of fishing.
Later in the afternoon, I went the other direction and fished another, even smaller and more overgrown stream. In many places, the mountain laurel and rhododendron grew together from each bank, forming an impenetrable arch above the water. I did manage to complete goal 1 and finish off goal 3 though (one of two brookies caught…the other was camera shy).
After a beautiful night in the woods, the next day brought a hike up to the summit of Springer Mountain and the first white blaze that northbound thru hikers pass.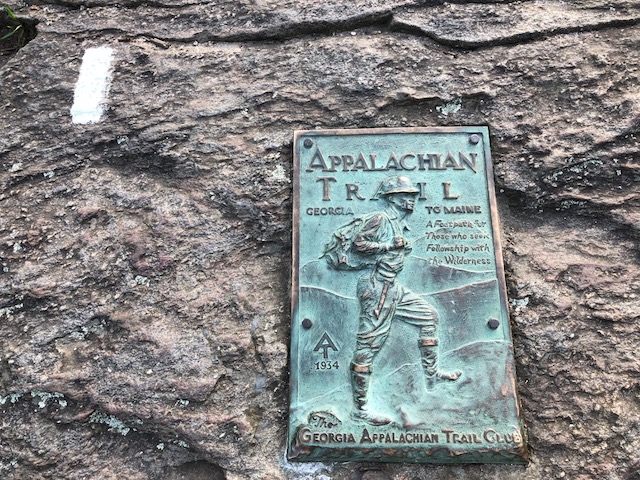 That afternoon, I slowly made my way out of the forest, pausing at every pull off to fish the largest of the streams…I caught a number of pretty rainbows, mainly on dry flies.
From a gear standpoint, I fished my Rhodo on the smaller streams and my Nissin Royal Stage 400 on the largest stream. All dry fly fishing on the small streams, dry/dropper on the largest (only one fish on the nymph though, so probably just a waste of effort fishing that rig).
All in all, it was a great 36 hours or so of hiking, camping and fishing.