Interesting article Karl. For wet wading I use a similar sun shirt. For footwear I use the Patagonia / Danner river salt boots. For socks if it's a small stream without the deep holes I usually go with water proof socks like the seal skinz. If it's a bigger river with deep holes I go with some wool socks.
I also like using the Patagonia packable wader if it's not crazy hot. They are a thin enough wader that if I'm fishing a larger / deeper river they work well.
The PNW coastal backcountry is a temperate rainforest (jungle). I like to (and hope I can continue to) hike in a ways but I'm old, and getting a bit wobbly so two things I want is
lightweight footwear but it has to provide ample protection, good support yet allow flexibility (think old school mid-height backpacking or tele-ski boot), and mongo traction.

Lace-up

Korkers upper-mid tier to top-of-line boots provide all of that. They are very lightweight with the "Kling-On" sole (warning - don't wade with them) and quite good for trail hiking and moderate + - elevation bushwhacking. The "Triple Threat" aluminum bar cleat soles are too heavy for hiking but are carried in my pack to provide the mongo traction in the stream.
IMHO a wading staff is critical but not mentioned in the article. For many years I've used a pair of folding-telescoping trekking poles that come with 2 belt pouches and rubber tip caps ($35-$45 from Amazon). I only use one at a time and after a few years when the internal tension spring or wire rope corrodes and breaks from repeated immersion/drying cycles, I have another in brand new condition. They do have a harmonic vibration in deep heavy current that doesn't inspire confidence but I've used that as a warning that maybe I ought not go any further and look for a safer way to get where I'm headed. I recently bought a custom "Riversticks" wading staff that the NW hardcore steelheaders rave about. It's heavy, but provides a

solid

third leg and can be repaired with hardware store off-the-shelf parts. They're not cheap but worth every penny.
Riverstick Custom Wading Staff – A Blaze In The Northern Fly.
If interested PM me and I'll provide an email address to the builder, who was fabulous and offered me a lot of options.
Bushwhacking on overgrown game trails through thick coastal rainforest brush that includes devils club and blackberry vines is tough on lightweight and expensive hiking - fishing trousers that also don't provide much protection for my skin. I share Dr. Tom Davis' affinity for camo to break up my silhouette. I find modern battle dress uniform trousers in OCP or legacy USAF tiger stripe provide a high degree of skin protection and durability, but are also acceptably lightweight and dry pretty quickly on warm summer wet wading days. The number, placement, and ergo design of pockets is also a plus. Here near 2 large military installations they are easy to find at thrift stores in near-new condition for less than $10; can't beat that! There are decent deals on eBay too. If hiking into higher elevations with less brush I'll use the lightweight trousers.
I still have a couple of moderately loose fitting, screened-vented solid color long-sleeve, collared, button-up $imm$ shirts for fishing from a boat or float tube but usually wear a similar Aqua Design Bayou (green) "Real Water" sky camo shirt for rivers-creeks that was much less expensive. The lightweight fabric actually and annoyingly sticks to thorny brush like a magnet, however at least it hasn't torn. The shirt I have is now discontinued, they only have tighter fitting quarter-zip shirts

. Their adjustable vented neck gaiter is outstanding because it's the only "buff" I've tried that doesn't cause my glasses to fog up. I do have a (discontinued) no-frills Exofficio Solis hoody in "fly camo" that's kind of nice but I still prefer the screened-vented button up shirts for ventilation on hot days.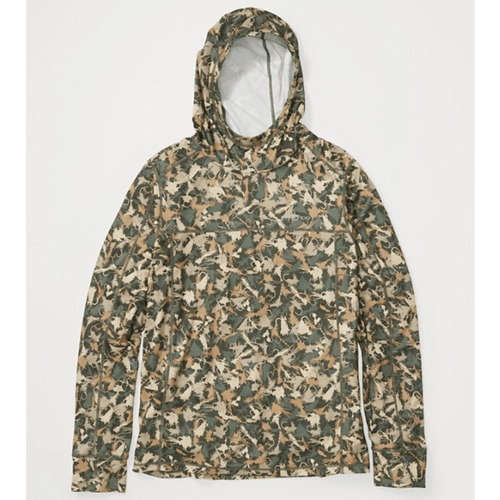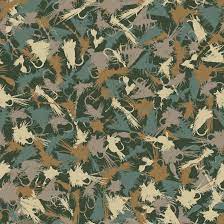 Finally and also not mentioned in the article, I've used knee pads for many years; now wader gaiters for rivers and saltwater fishing. The knee to shin protection is great for bushwhacking and kneeling on river or barnacle covered salt beach cobble to get low or to release fish. I managed to get some the inexpensive ones from Esoteric in the UK before they were discontinued

. The Velcro does need to be repaired from time to time but that's not hard to do.
Chris and Brian, thank you for your thoughtful and interesting responses. It is always interesting and helpful to learn how other T-anglers handle the issues wet wading presents to the anglers who choose to wet wade.
I came to this topic in an obtuse way. I have been seeing a lot of advertising lately on sports clothing made out of bamboo and fly fishing is one of the activities presented as being most appropriate for bamboo sports wear, so I wondered how good it would be for wet wading.
Bamboo is easily grown, does not require fertile soil or a lot of fertilizers, so it is climate friendly material and has some admiral qualities - it provides good sun protection, is twice as soft as silk and very popular for bed sheets, is cooling when it is hot yet warming when it is cold, and it wicks well.
Unfortunately, bamboo cloth absorbs 3 times it's weight in water and takes twice as long as cotton to dry. Cotton is notorious for being cold and clammy when wet, so bamboo cloth is not a good material to use for wet wading clothing. Also, bamboo all by itself is not very durable, so synthetic rayon is added to the blend for added strength, which is derived from petroleum and undermines bamboos bio friendly qualities and there are plenty of other fast drying, strong synthetics out there to make wet wading clothing out of that are a lot less expensive and far better for our protection. The above article was the best l formation I could find on functional wet wading clothing and gear…Karl.
I typically wear a boonie hat, a lightweight Patagonia fishing shirt, prana Zion pants, darn tough socks and old low top trail runner shoes. I find the outsoles of the trail runners are just as good as wading shoes I've owned in the past.
I've had Lyme before so I'm paranoid about ticks. Even in the summer I won't wear short sleeves or shorts.
I don't find that I've ever wished I was wearing knee or shin pads.
I also like the lightweight Patagonia waders, although you have to be incredibly careful when bushwhacking. Almost any thorn is enough to tear them.
When I bought my hoody a year ago there was some discussion on the regional FF forum about bamboo hoodies. I was seriously considering one (camo of course) until the issue of shrinkage was mentioned and IIRC that hand wash(?)-line dry was recommended for the particular brand I was looking at. It reminded me of two comfortable bamboo long sleeved polo shirts I had several years ago that shank significantly in body and sleeves length making them uncomfortable - unwearable. I wash all my synthetic outdoor clothing in a front loader on gentle cycle with cold water and hang dry to limit wear and tear so that's no big deal but shrinkage…

. Read the care recommendations adding - and any negative reviews; I think that's where shrinkage was first mentioned.
Agreed that Lyme and viruses spread via mosquito bites is a good reason to wear long sleeves and trousers when I'm out. I DIY treat mine with a diluted 0.05% Permethrin solution that is effective for a couple of months and a few washings. And besides the protection from UV rays, I just feel cooler in hot weather with my skin covered, especially in "tech" clothing that absorbs and wicks sweat (moisture) away from the skin where it will evaporate cooling the skin. I also have a camo Mission cooling bucket hat that actually works. Hey, Bedouins wear black robes in desert.
I've been using protection for my knees when fishing since at least 2012; something I first discovered long-long ago when tele-skiing. But knee pads with just two straps slipped around; especially badly with waders, and I was repeatedly repositioning them. Also hard shells were annoyingly unstable when kneeling on them. In 2017 I discovered top of boot to knee protective wader gaiters with foam padding that have 4 or more straps and stay put a lot better. They provide ample padding if kneeling, and help when scrambling over rocks, fallen trees and logjams, plus protection from thorns. They've protected me from possible serious injury twice when stumbling over and onto short sharp sapling stumps from beavers that I couldn't see in tall grass. And besides protecting my knees-shins, they also protect my waders. I wish I could let you try my wader gaiters for a few days of backcountry bushwhack fishing, you might like them.
I would need to do a more in depth post on what I use but mostly I use tech shirts and lightweight quick dry camping pants. The kind with a removable legs that convert to shorts.
I use the simms guide guard socks and wading boots mostly. Sometimes the socks worn knee high and sometimes folded over. I use the simms freestone or freesalt boots. On a trip to Colorado I bought a cheap pair of synthetic hiking boots a size up for 50 bucks and they worked great and are still in rotation. I put grip studs in all my wading boots it makes a huge difference in safety and traction.
Regulating heat and layering is important.
Another product that is a staple is the under armour cold gear compression shirts. They are like a wetsuit in a lot of ways and can keep you warm even when wet. You will need wind break so a packable rain jacket is also a must. Look for the ones that pack down to a soda can size. Most rain jackets are really poor in rain, but serve excellent as trapping heat and preventing evaporative heat loss in wind.
I dont use knee pads a ton but when I do I use these sailing ones
Something else I'll mention about knee pads, Orvis and maybe somebody else has waders with kneepad pockets inside the waders. Good for the knees, but inviting-encouraging you to scoot around on the knees is bad for the waders. Talk about planned obsolescence!
If it's cold enough to need a wind break, it's not warm enough to wet Wade. At least that's my POV.
Not True. Fishing in cold water can drop your body temps even if air temps are above 75.
Fishing in mountain water can be bone chilling, if for some reason your torso gets wet, you could get uncomforble quick.
I wetsuit 85% of my season in the salt. Nights are in the 80s yet i always am wearing a wind break or carry one.
I wasn't presenting a fact. Just my personal preferences. If water is cold enough to cause hypothermia then it's too cold for me to wet wade, no matter the air temp. Anything below 50 degrees water temp and I'm wearing waders.
Plus personally I rarely am wading deeper than my knees and never deeper than my thighs.
Wet wading is definitely a factor of air temps for me. Most wild trout water will be colder temps…and often in the mountains with wildly vaiable air temps.
In the salt striped bass are most active around tge 50 degree mark. It can be 90 out with cold water temps. The ocean and snow melt rivers are always going to be biased to cold water.
This topic was automatically closed 30 days after the last reply. New replies are no longer allowed.